General Trick to Unlock Android Phone Free: number 4 will amaze you:)
---
You don't necessarily have to be a hacker before you can bypass your Android Smartphone lock screen
However, it is another form of hacking through a lock system, which means the tips can be used for both legal and illegal purpose. The lock screen bypass can be applicable for various situation like lost phone, broken screen, malfunctioning touch system among others, but only one will be explained below.
Situation: Broke Phone with Smashed Screen
If you were trapped in this situation, you would freak out to get your Android phone unlocked. It would be a bit of problem for you, but if you have enabled the USB debugging option on your phone, it would be much easier to unlock screen. Luckily, creative solutions are also listed below to solve this awkward situation without turning the mode on.
Method 1: Using Android Debug Bridge
Be aware that USB Debugging option on your phone should already be turned on when you try this.
Download Android SDK package on your PC.
Open the Command Prompt (Ctrl+ R > type CMD > Enter) on your PC and change the directory to where the ADB file is located. Enter the following command– "cd C:/android/platform-tools" into Command Prompt.
Connect Android phone to your PC via USB cable and enter the following command– "adb device". When your phone is detected, you'll see some numbers in the Command Prompt window.
Type the following two commands. You'll need to type in the second command– "shell input keyevent 66" immediately after the first one– "adb shell input text 1234". Then replace 1234 in the first command with your actual password.
Method 2: Using USB OTG Cable
This method succeeds in working without turning debugging mode on, but only works with the devices supporting USB OTG.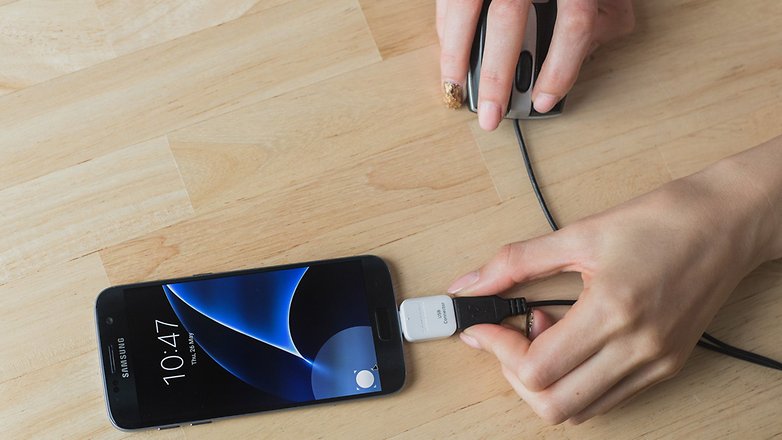 Plug in an OTG cable (it's available on Amazon or elsewhere) into the micro USB port on your device.
Insert a USB mouse into the other part of the cable. If your device is compatible with USB OTG, with the mouse accessible to your Android device, you'll see a mouse pointer under the broken screen.
Please left click and draw the Pattern, or enter the password by clicking on the digits to unlock screen.
Method 3: Using Find My Mobile Tool
This tool is only for Samsung mobile phone in the case that you have formerly registered Samsung account on your phone.
Go to Samsung Find My Mobile and sign in with your registered account.
You're supposed to see your registered phone on the left-hand sidebar, in the Find My Mobile account page.
Select "Unlock my screen" and select "Unlock" to wait a few seconds for it to finish. You will get a notification pop-up to inform you that your screen is unlocked.
General Trick to Unlock Android Phone Free:
You can call your locked cell phone from another one and accept the call, then hit the back button during the call which will give you access to your phone. You should go to the security settings and replace the original password or pattern (If you forgot it, try out different combinations until you get it right) with a new one. This way is probably not able to unlock any Android phones, but you can give it a shot on the condition that parts of the touch functionality still work on your phone. In conclusion, to unlock a cell phone is not easy stuff, precaution is better than cure.